Excellent Access
The hotel is on Katsuyama-dori Avenue in the middle of Matsuyama City, within walking distance to the office and entertainment districts and the city's symbol, Matsuyama Castle.
If you take the city tram from a nearby tram stop, you will get to Dogo Onsen in no time, too.
The hotel is also easily accessible from the airport, JR Matsuyama Station, and the Matsuyama Interchange, making it the perfect place for business and tourism.
Parking
Parking garage: 550 yen per night (from 3:00 p.m. to 11:00 a.m.)
(The parking garage has a size limit of 1.6 m tall, 1.76 m wide, and 5 m long)
Parking lot (for high roof cars, etc.): 800 yen per night
Motorcycle parking fee: 350 yen per night
(550 yen for large motorcycles)
※Other contracted car parking available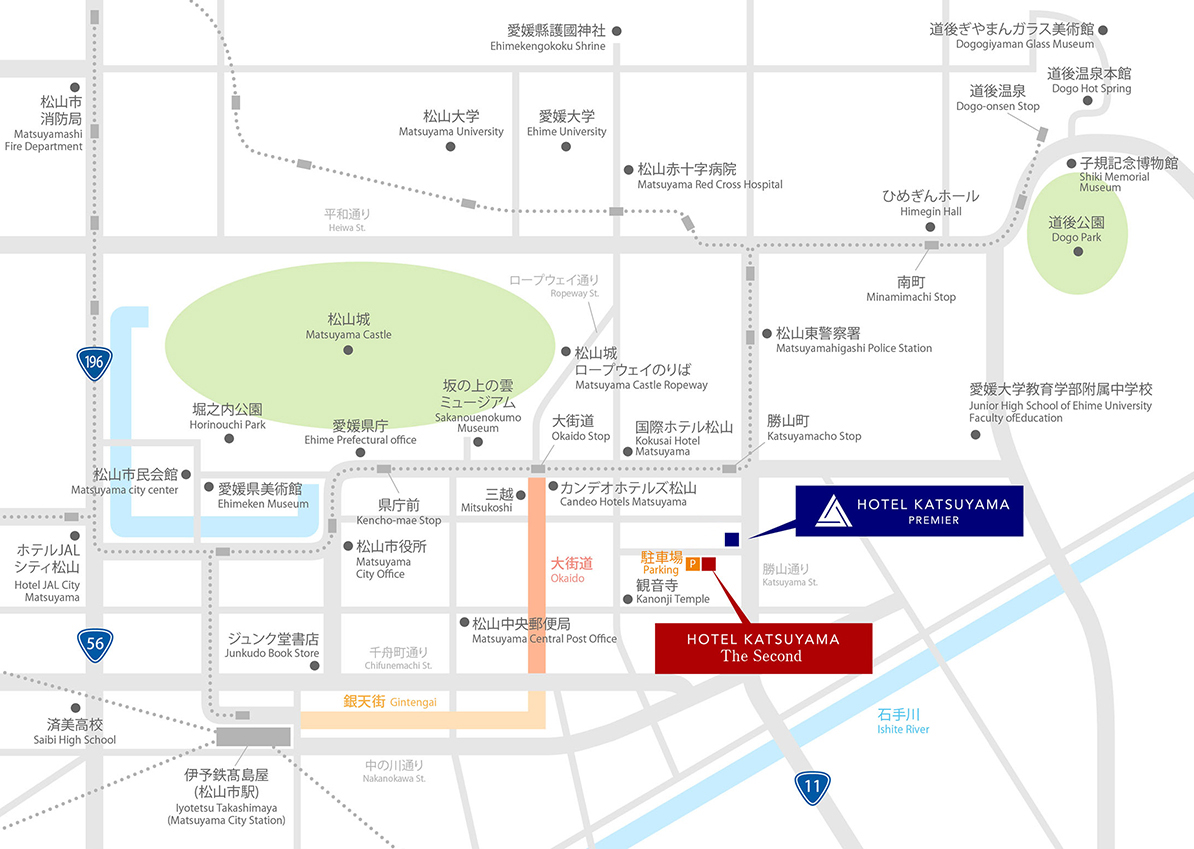 By Car or Taxi
・About 20 minutes to the Matsuyama Interchange, about 10 minutes to JR Matsuyama Station, and about 25 minutes to Matsuyama Airport
・About 30 minutes to Matsuyama Sightseeing Port, about 5 minutes to Dogo Onsen, about 2 minutes to the entrance to Matsuyama Castle, and about 5 minutes to Ishiteji Temple
On Foot
・5 minutes' walk to Okaido shopping street
By bus
・About 20 minutes to the Matsuyama Interchange, about 10 minutes to JR Matsuyama Station, and about 25 minutes to Matsuyama Airport
・About 30 minutes to Matsuyama Sightseeing Port, about 5 minutes to Dogo Onsen, about 2 minutes to the entrance to Matsuyama Castle, and about 5 minutes to Ishiteji Templ
By JR or City Train
・About 20 minutes to the Matsuyama Interchange, about 10 minutes to JR Matsuyama Station, and about 25 minutes to Matsuyama Airport
・About 30 minutes to Matsuyama Sightseeing Port, about 5 minutes to Dogo Onsen, about 2 minutes to the entrance to Matsuyama Castle, and about 5 minutes to Ishiteji Temple
Reserve a Room
/ Search Plans